2016 WRITERS GUILD AWARDS (68th Annual) – Ganadores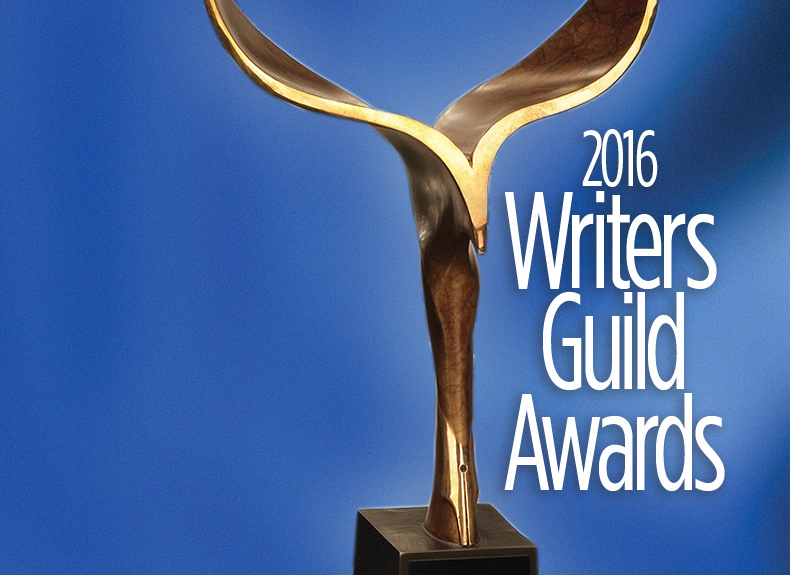 Los Premios del Gremio de Guionistas fueron el sábado 13 de Febrero en Los Angeles.
GUIÓN ORIGINAL
Bridge of Spies, Written by Matt Charman and Ethan Coen & Joel Coen; DreamWorks Pictures
Sicario, Written by Taylor Sheridan; Lionsgate
Spotlight, Written by Josh Singer & Tom McCarthy; Open Road Films
Straight Outta Compton, Screenplay by Jonathan Herman and Andrea Berloff; Story by S. Leigh Savidge & Alan Wenkus and Andrea Berloff; Universal Pictures
Trainwreck, Written by Amy Schumer; Universal Pictures
GUIÓN ADAPTADO
The Big Short, Screenplay by Charles Randolph and Adam McKay; Based on the Book by Michael Lewis; Paramount Pictures
Carol, Screenplay by Phyllis Nagy; Based on the Novel The Price of Salt by Patricia Highsmith; The Weinstein Company
The Martian, Screenplay by Drew Goddard; Based on the Novel by Andy Weir; Twentieth Century Fox
Steve Jobs, Screenplay by Aaron Sorkin; Based on the Book by Walter Isaacson; Universal Pictures
Trumbo, Written by John McNamara; Based on the Biography by Bruce Cook; Bleecker Street Media
GUIÓN DOCUMENTAL
Being Canadian, Written by Robert Cohen; Candy Factory Films
Going Clear: Scientology and the Prison of Belief, Written by Alex Gibney; HBO Documentary Films
Kurt Cobain: Montage of Heck, Written by Brett Morgen; HBO Documentary Films
Prophet's Prey, Written by Amy J. Berg; Showtime Documentary Films
TELEVISION
SERIE DRAMA
The Americans
Better Call Saul
Game of Thrones
Mad Men
Mr. Robot
SERIE COMEDIA
Broad City
Silicon Valley
Transparent
Unbreakable Kimmy Schmidt
Veep
NUEVA SERIE
Better Call Saul
Bloodline
The Last Man On Earth
Mr. Robot
Unbreakable Kimmy Schmidt
EPISODIO – DRAMA
"Explosivos" (Narcos)
"International Assassin" (The Leftovers)
"Mind's Eye" (The Good Wife)
"Mother's Mercy" (Game of Thrones)
"Person to Person" (Mad Men)
"Uno" (Better Call Saul)
EPISODIO – COMEDIA
"Alive in Tucson" (The Last Man On Earth)
"Connection Lost" (Modern Family)
"Joint Session" (Veep)
"Racegate" (Maron)
"Rock, Paper, Scissors, Gun" (black-ish)
"Sand Hill Shuffle" (Silicon Valley)
FORMATO LARGO – ORIGINAL
American Horror Story: Hotel
Flesh and Bone
Sons of Liberty
Saints & Strangers
FORMATO LARGO – ADAPTADO
Fargo
The Red Tent
Show Me A Hero
FORMATO CORTO PARA NUEVOS MEDIOS – ORIGINAL
"Back to Reality" (Weight)
"Born This Way" (Anyone But Me)
FORMATO CORTO PARA NUEVOS MEDIOS – ADAPTADO
"Chapter Two: Phoebe" (Heroes Reborn: Dark Matters)
"Part 8" (Fear The Walking Dead: Flight 462)
"The Summer of Love, Part 1: Meet Charlie" (Aquarius)
ANIMACIÓN
"Gayle Makin' Bob Sled" (Bob's Burgers)
"Halloween of Horror" (The Simpsons)
"Hank After Dark" (BoJack Horseman)
"Housetrap" (Bob's Burgers)
"Sky Police" (The Simpsons)
"Walking Big & Tall" (The Simpsons)
COMEDY / VARIETY – (INCLUDING TALK) SERIES
Conan
Real Time with Bill Maher
The Daily Show with Jon Stewart
The Late Show with Stephen Colbert
The Tonight Show Starring Jimmy Fallon
COMEDY / VARIETY – SKETCH SERIES
Key & Peele
Inside Amy Schumer
Saturday Night Live
COMEDY / VARIETY – MUSIC, AWARDS, TRIBUTES – SPECIALS
The 69th Annual Tony Awards
2014 Kennedy Center Honors
2015 Film Independent Spirit Awards
Amy Schumer: Live at The Apollo, Written by Amy Schumer; HBO
Jimmy Kimmel Live: 10th Annual After The Oscars Special
Saturday Night Live 40th Anniversary Special
QUIZ AND AUDIENCE PARTICIPATION
Hollywood Game Night
Jeopardy!
DAYTIME DRAMA
General Hospital
The Bold and the Beautiful
GUIÓN INFANTIL – EPISODIC & SPECIALS
"Gortimer, Ranger and Mel vs. The Endless Night" (Gortimer Gibbon's Life on Normal Street)
"Girl Meets I am Farkle" (Girl Meets World)
"Gortimer and the Surprise Signature" (Gortimer Gibbon's Life on Normal Street)
"Gortimer vs The Relentless Rainbow of Joy" (Gortimer Gibbon's Life on Normal Street)
"Ranger vs. The Fabled Flower of Normal Street" (Gortimer Gibbon's Life on Normal Street)
CHILDREN'S SCRIPT – LONG FORM OR SPECIAL
"Descendants"
GUIÓN DOCUMENTAL – CURRENT EVENTS
"American Terrorist" (Frontline)
"Gunned Down: The Power of the NRA" (Frontline)
GUIÓN DOCUMENTAL – OTHER THAN CURRENT EVENTS
"Firestone and the Warlord" (Frontline)
"The Forgotten Plague" (American Experience)
"The Great Math Mystery" (Nova)
"Secrets, Politics and Torture" (Frontline)
GUIÓN NOTICIAS – REGULARLY SCHEDULED, BULLETIN, OR BREAKING REPORT
"Cuba" (60 Minutes)
"Yogi Berra Tribute"
GUIÓN NOTICIAS – ANALYSIS, FEATURE, OR COMMENTARY
"The Storm After the Storm" (60 Minutes)
RADIO
DOCUMENTAL
"Marking the End of Vietnam: 40 Years Later"
NOTICIAS – REGULARLY SCHEDULED OR BREAKING REPORT
"Remembering New York Icons"
"Showtop"
"World News This Week, January 9, 2015"
NOTICIAS – ANALYSIS, FEATURE OR COMMENTARY
"Death of a Baseball Icon"
"Passages"
PROMOTIONAL WRITING AND GRAPHIC ANIMATION NOMINEES
ON-AIR PROMOTION (RADIO, TELEVISION OR NEW MEDIA)
"Elementary Promos"
"CBS On-Air Promos"
"The McCarthys and Under the Dome Promos"
VIDEOGAME WRITING NOMINATIONS
OUTSTANDING ACHIEVEMENT IN VIDEOGAME WRITING
Assassin's Creed Syndicate
Pillars of Eternity
Rise of the Tomb Raider
The Witcher 3: Wild Hunt
Nota: Este año no hubo nominados en las siguientes categorías: Television Graphic Art and Animation