2017 Writers Guild Awards (69th Annual) – Nominaciones TV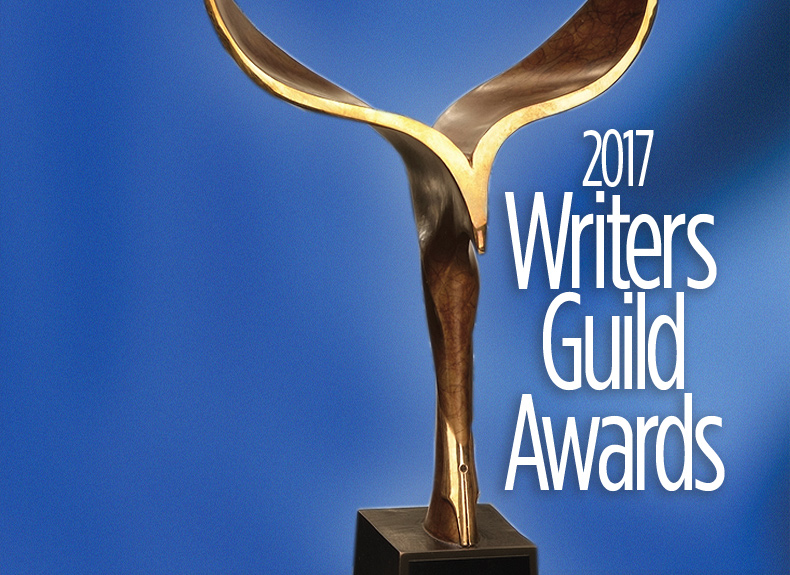 Los Premios del Gremio de Guionistas serán el 19 de Febrero con una ceremonia en Los Angeles. El próximo 4 de Enero se anunciarán las categorías de Cine y Documental. Y el 12 de Enero las de Videojuegos.
El pasado 5 de diciembre se anunciaron las nominaciones en las categorías de TV, New Media, Radio, Noticias, Promotional Writing y Animación Gráfica, y estos son los nominados:
TELEVISION
SERIE DRAMA
The Americans
Better Call Saul
Game of Thrones
Stranger Things
Westworld
SERIE COMEDIA
Atlanta
Silicon Valley
Transparent
Unbreakable Kimmy Schmidt
Veep
NUEVA SERIE
Atlanta
Better Things
Stranger Things
This Is Us
Westworld
EPISODIO – DRAMA
"Gloves Off" (Better Call Saul)
"I Am a Storm" (Shameless)
"Klick" (Better Call Saul)
"Switch" (Better Call Saul)
"The Trip" (This Is Us)
"The Winds of Winter" (Game of Thrones)
EPISODIO – COMEDIA
"Kimmy Finds Her Mom!" (Unbreakable Kimmy Schmidt)
"Kimmy Goes on a Playdate!" (Unbreakable Kimmy Schmidt)
"Pilot" (One Mississippi)
"R-A-Y-C-Ray-Cation" (Speechless)
"Streets on Lock" (Atlanta)
"A Taste of Zephyria" (Son of Zorn)
FORMATO LARGO – ORIGINAL
American Crime
Confirmation
Harley and the Davidsons
Surviving Compton: Dre, Suge & Michel'le
FORMATO LARGO – ADAPTADO
11.22.63
The People vs. O.J. Simpson: American Crime Story
Madoff
The Night Of
Roots
FORMATO CORTO PARA NUEVOS MEDIOS – ORIGINAL
"Episode 101" (Now We're Talking)
"Escape the Room" (Life Ends at 30)
"Itsy Bitsy Spider" Episode 1 (Thug Passion)
"The Party" (The Commute)
FORMATO CORTO PARA NUEVOS MEDIOS – ADAPTADO
"Passage" Part 4 (Fear the Walking Dead)
«Under Siege» (The Strain)
ANIMACIÓN
"Barthood" (The Simpsons)
"First Day of Rule" (Elena of Avalor)
"Fish Out of Water" (BoJack Horseman)
"A Princess on Lothal" (Star Wars Rebels)
"Stop the Presses" (BoJack Horseman)
COMEDY / VARIETY – (INCLUDING TALK) SERIES
The Daily Show with Trevor Noah
Last Week Tonight with John Oliver
Late Night with Seth Meyers
The Late Show with Stephen Colbert
COMEDY / VARIETY – SKETCH SERIES
Documentary Now!
Inside Amy Schumer
Maya & Marty
Nathan For You
Saturday Night Live
COMEDY / VARIETY – MUSIC, AWARDS, TRIBUTES – SPECIALS
68th Primetime Emmy Awards
73rd Annual Golden Globe Awards
88th Annual Academy Awards
Triumph's Election Special
QUIZ AND AUDIENCE PARTICIPATION
Hollywood Game Night
Jeopardy!
DAYTIME DRAMA
General Hospital
GUIÓN INFANTIL – EPISODIC & SPECIALS
"Girl Meets Commonism" (Girl Meets World)
"Just Add Mom" (Just Add Magic)
"Mel vs. The Night Mare of Normal Street" (Gortimer Gibbon's Life on Normal Street)
"Mucko Polo, Grouch Explorer" (Sesame Street)
CHILDREN'S SCRIPT – LONG FORM OR SPECIAL
Dance Camp,
Once Upon a Sesame Street Christmas
R.L. Stine's Monsterville: Cabinet Of Souls
GUIÓN DOCUMENTAL – CURRENT EVENTS
"Chasing Heroin" (Frontline)
"The Choice 2016" (Frontline)
"Inside Assad's Syria" (Frontline)
GUIÓN DOCUMENTAL – OTHER THAN CURRENT EVENTS
"American Reds"
"Jackie Robinson, Part One"
"Netanyahu at War" (Frontline)
GUIÓN NOTICIAS – REGULARLY SCHEDULED, BULLETIN, OR BREAKING REPORT
"Ambush In Dallas" (World News Tonight With David Muir)
"Brussels Under Attack" (World News Tonight With David Muir)
"Muhammad Ali: Remembering A Legend" (48 Hours)
GUIÓN NOTICIAS – ANALYSIS, FEATURE, OR COMMENTARY
"CBS Sunday Morning Almanac" June 12, 2016 (CBS Sunday Morning)
RADIO
DOCUMENTAL
"Chernobyl: 30 Years Later"
"Summer of 2016"
NOTICIAS – REGULARLY SCHEDULED OR BREAKING REPORT
"6:40am News" November 13, 2015
"Legends of the Game"
"Muhammad Ali: A Tribute to Greatness"
"World News This Week" August 26, 2016
NOTICIAS – ANALYSIS, FEATURE OR COMMENTARY
"Dishin Digital on WCBS-AM"
"Morley Safer: A Journalist's Life"
«Vin Scully»
"Vin Scully Hangs Up The Mic"
PROMOTIONAL WRITING AND GRAPHIC ANIMATION NOMINEES
ON-AIR PROMOTION (RADIO, TELEVISION OR NEW MEDIA)
"Big Brother Over The Top Launch & NCIS: Special Agent Tony Dinozzo's Top Moments"
"CBS On-Air Reel"
"The Dollmaker, Halloween"
"Limitless Promos 15/16" (CBS)
"Mom"
TELEVISION GRAPHIC ART AND ANIMATION
"The Real History of Cinco de Mayo"
Webs: Nominaciones