2022 Writers Guild Awards (74th Annual) – Ganadores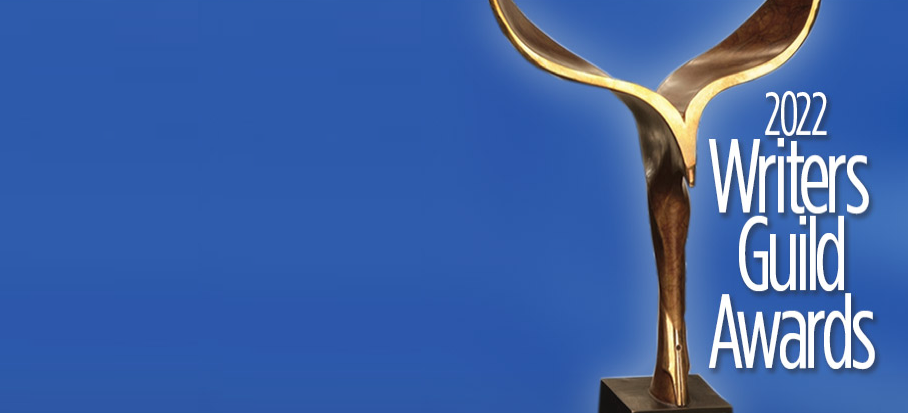 Los Premios del Gremio de Guionistas se celebraron el 20 de Marzo de 2022 con una ceremonia en Los Angeles.
CINE Y DOCUMENTAL:
GUIÓN ORIGINAL
Being the Ricardos
Don't Look Up
The French Dispatch of the Liberty, Kansas Evening Sun
King Richard
Licorice Pizza
GUIÓN ADAPTADO
CODA
Dune
Nightmare Alley
tick…tick…BOOM!
West Side Story
GUIÓN DOCUMENTAL
Being Cousteau
Exposing Muybridge
Like a Rolling Stone: The Life & Times of Ben Fong-Torres
TELEVISION
SERIE DRAMA
The Handmaid's Tale
Loki
The Morning Show
Succession
Yellowjackets
SERIE COMEDIA
Curb Your Enthusiasm
Hacks
Only Murders in the Building
Ted Lasso
What We Do in the Shadows
NUEVA SERIE
Hacks
Loki
Only Murders in the Building
Reservation Dogs
Yellowjackets
EPISODIO – DRAMA
"1883" (1883)
"Birth Mother" (This Is Us)
"La Amara Vita" (The Morning Show)
"The New Normal" (New Amsterdam)
"Retired Janitors of Idaho" (Succession)
"Testimony" (The Handmaid's Tale)
EPISODIO – COMEDIA
"All Sales Final" (Superstore)
"Alone At Last" (The Great)
"Enlightened Dave" (Dave)
"Episode One: True Crime" (Only Murders in the Building)
"F*ckin' Rez Dogs" (Pilot) (Reservation Dogs)
"Pilot" (The Wonder Years)
FORMATO LARGO – ORIGINAL
American Horror Story: Double Feature
Mare of Easttown
Midnight Mass
Them: Covenant
The White Lotus
FORMATO LARGO – ADAPTADO
Halston
Impeachment: American Crime Story
Maid
The Underground Railroad
WandaVision
FORMATO CORTO PARA NUEVOS MEDIOS – ORIGINAL Y ADAPTADO
Calls
Debunking Borat
The Expanse: One Ship
ANIMACIÓN
"An Incon-Wheelie-ent Truth" (Bob's Burgers)
"Loft in Bedslation" (Bob's Burgers)
"Must Love Dogs" (Family Guy)
"Planteau" (Tuca & Bertie)
"Portrait of a Lackey on Fire" (The Simpsons)
"The Star of the Backstage" (The Simpsons)
COMEDY / VARIETY TALK SERIES
Conan
Desus & Mero
Last Week Tonight with John Oliver
The Problem with Jon Stewart
COMEDY / VARIETY SKETCH SERIES
How To with John Wilson
I Think You Should Leave with Tim Robinson
PAUSE with Sam Jay
Saturday Night Live
That Damn Michael Che
COMEDY / VARIETY SPECIALS
43rd Annual Kennedy Center Honors
Drew Michael: Red Blue Green
Full Frontal Wants to Take Your Guns
The Tony Awards Presents: Broadway's Back!
Yearly Departed
QUIZ AND AUDIENCE PARTICIPATION
Baking It
Capital One College Bowl
The Chase
Jeopardy!
DAYTIME DRAMA
General Hospital
The Young and the Restless
Days of Our Lives
GUIÓN INFANTIL – EPISODIC, LONG FORM & SPECIALS
"A Big Favor for Grampy/A Fair Way to Bounce" (Donkey Hodie)
"Park Ranger Percy / Lizard Lizzy" (Helpsters)
"Rice" (Waffles + Mochi)
"The Tale of the Midnight Magic" (Are You Afraid of the Dark?)
"Which Witch?" (Just Beyond)
GUIÓN DOCUMENTAL – CURRENT EVENTS
"The Healthcare Divide" (Frontline)
"The Jihadist" (Frontline)
GUIÓN DOCUMENTAL – OTHER THAN CURRENT EVENTS
"A Writer" (Hemingway)
"Citizen" (Amend: The Fight for America)
"Citizen Hearst, Part One" (American Experience)
"Round One" (Muhammad Ali)
GUIÓN NOTICIAS – REGULARLY SCHEDULED, BULLETIN, OR BREAKING REPORT
"Against All Enemies" (60 Minutes)
"Democracy Lost" (60 Minutes)
"The Unequal Recession" (60 Minutes)
GUIÓN NOTICIAS – ANALYSIS, FEATURE, OR COMMENTARY
"The Fall of Kandahar" (Vice News Tonight)
"Handcuffed to the Truth" (60 Minutes)
"Unpacking How Child Welfare and Foster Care Fails Black Children" (Unpack That)
"The Unstudied Link Between the COVID Vaccine and Periods" (Vice News Tonight)
"Woman in Motion: Star Trek's Nichelle Nichols and The Transformation of NASA" (CBS Sunday Morning)
NOTICIAS DIGITALES
"An Oral History of the Longest-Ever Broadway Shutdown,"
"Knives Out: Why 'Hacks' Works,"
"Men's Rights Asians" Think This Is Their Moment,"
«We Get to Hear Them Training to Kill Us,»
"What if the Unorthodox Arizona Audit Declares Trump Won?"
RADIO / AUDIO
RADIO/AUDIO DOCUMENTARY
"One Year: 1977 'The Miracle Cure'"
"Our Year" (What Next)
"That Seattle Muzak Sound" (Decoder Ring)
"Who Killed the Segway?" (Decoder Ring)

RADIO/AUDIO NEWS SCRIPT – REGULARLY SCHEDULED, BULLETIN, OR BREAKING REPORT
"Silence the Mics: Tributes to Some Famous Broadcasters,"
"Surfside Condo Collapse" (CBS World News Roundup Late Edition)
"World News This Week – Week of August 16, 2021,"
"World News This Week – Week of January 8, 2021,"
"World News This Week – Week of September 3, 2021,"
RADIO/AUDIO NEWS SCRIPT – ANALYSIS, FEATURE, OR COMMENTARY
"The Tasmanian Devil Tattoo" (Decoder Ring)
"When the Culture War Comes for Your Job" (What Next)
PROMOTIONAL WRITING AND GRAPHIC ANIMATION NOMINEES
ON-AIR PROMOTION
"Celebrating Powerful Female Leads: Trailers for The Equalizer & Why Women Kill,"
"CSI: Vegas Trailers,"

Paul Selvin Award – Barry Jenkins
Evelyn F. Burkey Award – Dick Cavett