69º Festival International de Cine de Cannes 2016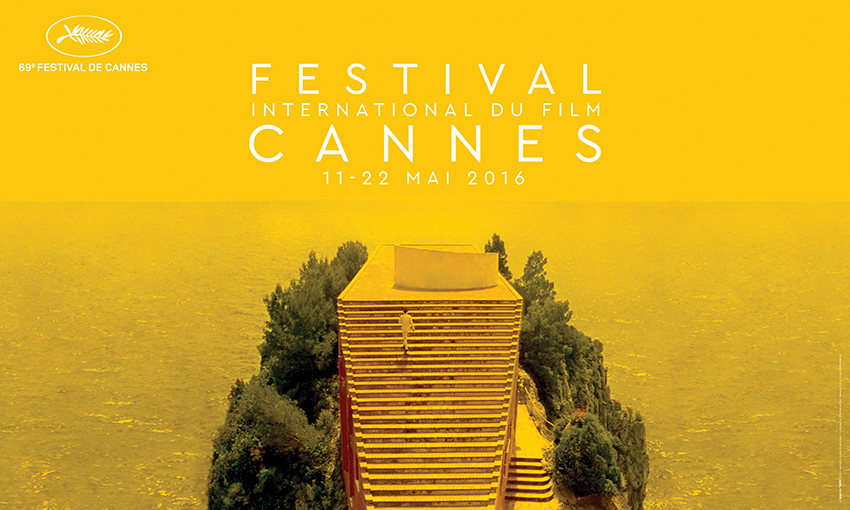 El Festival de Cannes este año se celebrará del 11 al 22 de mayo, en su 69ª edición.
El actor francés Laurent Lafitte presentará la ceremonia de inauguración, que tendrá lugar el miércoles 11 de mayo, así como la entrega de premios durante la ceremonia de clausura del domingo 22 del mismo mes.
Dará la bienvenida al Jurado presidido por George Miller sobre el escenario del Palais des Festivals y el Grand Théâtre Lumière respectivamente.
La 69ª edición del Festival Internacional de Cine de Cannes abrirá sus puertas con la nueva película de Woody Allen, Café Society, que se proyectará el miércoles 11 de mayo en el Grand Théâtre Lumière del Palais des Festivals, en el marco de la selección oficial fuera de competición. Un récord para el director neoyorquino, que ya inauguró el Festival en 2002 con Un final made in Hollywood y en 2011 con Midnight in Paris. En Francia, su estreno en salas coincidirá con la inauguración del Festival de Cannes, el miércoles 11 de mayo de 2016.
Durante la clausura del 69º Festival de Cannes, que se celebrará el domingo 22 de mayo en el Grand Théâtre Lumière del Palais des Festivals, se proyectará como película de clausura la ganadora de la Palma de Oro.
La Palma de Honor se ha concedido al actor francés, Jean-Pierre Léaud.
Canal+ producirá y transmitirá en abierto ambas ceremonias.
El cartel oficial del 69º Festival de Cannes ha sido diseñado a partir de fotogramas de la película El Desprecio de Jean-Luc Godard. En la víspera de su 70º aniversario, el Festival ha decidido utilizar la imagen de esta película emblema y, de este modo, renueva su compromiso original: rendir homenaje a los creadores, celebrar la historia del cine y acoger nuevas formas de mirar el mundo.
SECCIÓN OFICIAL EN COMPETICIÓN
*

SELECCIÓN EN COMPETICIÓN

 
Jurado – Presidido por: George Miller (director, guionista y productor – Australia)
Formado por: Arnaud DESPLECHIN (Director y guionista – Francia), Kirsten DUNST (Actriz – Estados Unidos), Valeria GOLINO (Actriz, directora, guionista y productora – Italia), Mads MIKKELSEN (Actor – Dinamarca), László NEMES (Director y guionista – Hungría), Vanessa PARADIS (Actriz y cantante – Francia), Katayoon SHAHABI (Productora – Irán) y Donald SUTHERLAND (Actor – Canadá).
El jurado será el encargado de evaluar las películas en competición para formar el palmarés, que culminará con la Palme D'or, que se anunciará sobre el escenario durante la ceremonia de clausura del Festival, el domingo 22 de mayo.
Lista (Director (País), TÍTULO)
Woody ALLEN (USA), CAFÉ SOCIETY, Película de inauguración del festival *Fuera de Competición
***
Maren ADE (Germany), TONI ERDMANN
Pedro ALMODÓVAR (Spain), JULIETA
Andrea ARNOLD (United-Kingdom), AMERICAN HONEY
Olivier ASSAYAS (France), PERSONAL SHOPPER
Jean-Pierre DARDENNE, Luc DARDENNE (Belgium), LA FILLE INCONNUE
Xavier DOLAN (Canada), JUSTE LA FIN DU MONDE (IT'S ONLY THE END OF THE WORLD)
Bruno DUMONT (France), MA LOUTE (SLACK BAY)
Nicole GARCIA (France), MAL DE PIERRES
Alain GUIRAUDIE (France), RESTER VERTICAL
Jim JARMUSCH (USA), PATERSON
Kleber MENDONÇA FILHO (Brazil), AQUARIUS
Ken LOACH (United-Kingdom), I, DANIEL BLAKE
Brillante MENDOZA (Philippines), MA' ROSA
Cristian MUNGIU (Romania), BACALAUREAT
Jeff NICHOLS (USA), LOVING
PARK Chan-Wook (South Korea), AGASSI (THE HANDMAIDEN)
Sean PENN (USA), THE LAST FACE
Cristi PUIU (Romania), SIERANEVADA
Paul VERHOEVEN (Netherlands), ELLE
Nicolas WINDING REFN (Denmark), THE NEON DEMON
Asghar FAHARDI (Irán), THE SALESMAN
*

SELECCIÓN UN CERTAIN REGARD
Jurado – Presidido por: Marthe KELLER (Actriz – Suiza)
Formado por: Jessica HAUSNER (Directora y productora – Austria), Céline SALLETTE (Actriz – Francia), Ruben ÖSTLUND (Director – Suecia) y Diego LUNA (Actor, director y productor – México)
Dieciocho películas competirán en la sección Un Certain Regard. Al igual que las películas en competición, las obras de la sección Un Certain Regard están premiadas por un palmarés que el jurado dará a conocer sobre el escenario de la sala Debussy el sábado 21 de mayo de 2016.
Lista (Director (País), TÍTULO)
Mohamed DIAB (Egipto), ESHTEBAK (CLASH) Película inaugural
Behnam BEHZADI (Irán), VAROONEGI (INVERSION)
BOO Junfeng (Singapur), APPRENTICE
Delphine COULIN y Muriel COULIN (Francia), VOIR DU PAYS (THE STOPOVER)
Stéphanie DI GIUSTO (Francia), LA DANSEUSE (THE DANCER) 1ª película
Michael DUDOK DE WIT (Países Bajos), LA TORTUE ROUGE (THE RED TURTLE) 1ª película
FUKADA Kôji (Japón), FUCHI NI TATSU (HARMONIUM)
Maha HAJ (Israel), OMOR SHAKHSIYA (PERSONAL AFFAIRS) 1ª película
Eran KOLIRIN (Israel), ME'EVER LAHARIM VEHAGVAOT (BEYOND THE MOUNTAINS AND HILLS)
KORE-EDA Hirokazu (Japón), AFTER THE STORM
Juho KUOSMANEN (Finlandia), HYMYILEVÄ MIES (THE HAPPIEST DAY IN THE LIFE OF OLLI MÄKI) 1ª película
Francisco MÁRQUEZ, Andrea TESTA (Argentina), LA LARGA NOCHE DE FRANCISCO SANCTIS 1ª película
Bogdan MIRICA (Rumanía), CAINI (DOGS) 1ª película
Stefano MORDINI (Italia), PERICLE IL NERO
Michael O'SHEA (USA), THE TRANSFIGURATION 1ª película
Matt ROSS (USA), CAPTAIN FANTASTIC
Kirill SEREBRENNIKOV (Rusia), UCHENIK (THE STUDENT)
David MACKENZIE (Gran Bretaña), HELL OR HIGH WATER
La Caméra d'or, creada en 1978, se concede a la mejor obra novel presentada en la selección oficial (competición, fuera de competición y Un Certain Regard), en la Semana de la Crítica o en la Quincena de Realizadores, lo que en 2016 equivale 18 películas.
La Caméra d'or actúa como un acelerador sobre la carrera de un cineasta, ofreciéndole una visibilidad ejemplar y una notoriedad internacional. En el pasado, Jim Jarmusch, Mira Nair, Naomi Kawase, Bahman Ghobadi o Steve McQueen fueron galardonados con este premio. En 2015, la galardonada fue la película colombiana La tierra y la sombra, presentada en la selección oficial Un Certain Regard.
La Caméra d'or 2016 será entregada por la presidenta del jurado durante la ceremonia de palmarés, que se celebrará el domingo 22 de mayo.
Jurado – Presidido por: Catherine CORSINI (Directora, Sociedad de Realizadores de Películas – SRF)
Formado por: Jean-Christophe BERJON (Sindicato Francés de la Crítica Cinematográfica – SFCC), Alexander RODNYANSKY (personalidad invitada – Productor, Rusia), Isabelle FRILLEY (Federación de Industrias del Cine, el Audiovisual y el Multimedia – FICAM) y Jean-Marie DREUJOU (Asociación Francesa de directores de fotografía Cinematográfica – AFC)
SECCIÓN FUERA DE COMPETICIÓN
Lista (Director (País), TÍTULO)
*

SELECCIÓN FUERA DE COMPETICIÓN

 
Shane BLACK (USA), THE NICE GUYS
Jodie FOSTER (USA), MONEY MONSTER
NA Hong-Jin (Corea del Sur), GOKSUNG
Steven SPIELBERG (USA), DISNEY'S THE BFG
Jim JARMUSCH (USA), GIMME DANGER
YEON Sang-Ho (Corea del Sur), BU-SAN-HAENG (TRAIN TO BUSAN)
Jean-François RICHET (Francia), BLOOD FATHER
*

*PROYECCIONES ESPECIALES
Thanos ANASTOPOULOS (Grecia), Davide DEL DEGAN (Italia), L'ULTIMA SPIAGGIA (THE LAST RESORT)
Mahamat-Saleh HAROUN (Chad), HISSEIN HABRÉ, UNE TRAGÉDIE TCHADIENNE (HISSEIN HABRÉ, A CHADIAN TRAGEDY)
Rithy PANH (Camboya), EXIL
Albert SERRA (España), LA MORT DE LOUIS XIV (LAST DAYS OF LOUIS XIV)
Paul VECCHIALI (Francia), LE CANCRE
Jonathan LITTELL (Estados Unidos), WRONG ELEMENTS
Grégoire LEPRINCE-RINGUET (Francia), LA FORÊT DE QUINCONCES
Karim DRIDI (Francia/Túnez), CHOUF
Bernard-Henri Lévy (Francia), PESHMERGA

WORLD PREMIERE PREVIEW OF BERTRAND TAVERNIER'S DOCUMENTARY ABOUT FRENCH CINEMA

Voyage à travers le cinéma français by Bertrand Tavernier (2016, 3h15, France).

CINEMA MASTERCLASS: WILLIAM FRIEDKIN

The American filmmaker will give the annual Cinema Masterclass hosted by film critic Michel Ciment on Wednesday, May, 18th. He will also introduce a restored surprise film at Buñuel Theater and Sorcerer (1977) at the Cinéma de la Plage.
Sorcerer presented by La Rabbia.

THE DOUBLE PALME D'OR OF 1966

The Battle of the Rails
Signore & signori (The Birds, the Bees and the Italians) by Pietro Germi (1966, 2h, Italy/France)
Un Homme et une femme (A Man and a Woman) by Claude Lelouch (1966, 1h42, France)

A CROSSED TRIBUTE TO RAYMOND DEPARDON AND FREDERICK WISEMAN

Faits divers by Raymond Depardon (1983, 1h30, France)
Hospital by Frederick Wiseman (1969, 1h24, USA)

THE FIRST PRIZE OF THE FIPRESCI, UPON THE OCCASION OF THE CELEBRATION OF THE 70th ANNIVERSARY OF THE INTERNATIONAL FEDERATION OF FILM CRITICS

Farrebique by Georges Rouquier (1946, 1h27, France)

NINE DOCUMENTARIES ABOUT CINEMA

The Cinema Travelers by Shirley Abraham and Amit Madheshiya (2016, 1h36, India)
The Family Whistle by Michele Russo (2016, 1h05, Italy)
Cinema Novo by Eryk Rocha (2016, 1h30, Brazil)
Midnight Returns: The Story of Billy Hayes and Turkey by Sally Sussman (2016, 1h39, USA)
Bright Lights: Starring Carrie Fischer and Debbie Reynolds by Alexis Bloom and Fisher Stevens (2016, 1h35, USA)
Gentleman Rissient by Benoît Jacquot, Pascal Mérigeau and Guy Seligmann (2015, 1h14 minutes, France)
Close encounters with Vilmos Zsigmond by Pierre Filmon (2016, 1h22, France)
Et La femme créa Hollywood (Women Who Run Hollywood) by Clara and Julia Kuperberg (2015, 52mn, France)
Bernadette Lafont et Dieu créa la femme by Esther Hoffenberg (2016, 65mn, France)

RESTORED PRINTS

Die letzte Chance (The Last Chance) by Leopold Lindtberg (1945, 1h53, Switzerland)
Dolina Miru (Valley of Peace) by France Stiglic (1956, 1h30, Slovenia)
Ikarie XB 1 by Jindřich Polák (1963, 1h28, Czech Republic)
Jago hua savera (Day Shall Dawn) by Aaejay Kardar (1958, 1h34, Pakistan)
Memorias del subdesarrollo (Memories of the Underdevelopment) by Tomás Gutiérrez Alea (1968, 1h37, Cuba)
Santi-Vina by Thavi Na Bangchang (1954, 1h54, Thailand)
Szerelem (Love) by Károly Makk (1971, 1h32, Hungary)
Howards End by James Ivory (1992, 2h20, United Kingdom/Japan)
Decakolog 5 (Thou shalt not kill) and 6 (Thou shalt not commit adultery) by Krzysztof Kieślowski (1989, 57mn et 58mn, Poland)
Momotarô, Umi no shinpei (Momotaro, Sacred Sailors) by Mitsuyo Seo (1945, 1h14, Japan)
One-Eyed Jacks by Marlon Brando (1961, 2h21, USA)
Solyaris (Solaris) by Andreï Tarkovski (1972, 2h47, Russian Federation)
Ugetsu monogatari (Ugetsu) by Kenji Mizoguchi (1953, 1h37, Japan)
Dragées au poivre (Pepper Candy) by Jacques Baratier (1963, 1h34, France)
Valmont by Milos Forman (1989, 2h17, France)
Gueule d'amour by Jean Grémillon (1937, 1h32, France)
Masculin féminin by Jean-Luc Godard (1966, 1h50, France)
Indochine by Régis Wargnier (1992, 2h32, France)
Adieu Bonaparte by Youssef Chahine (1984, 1h55, France/Egypt)
Pit and The Pendulum by Roger Corman (1961, 1h20, USA)
Rendez-vous de juillet by Jacques Becker (1949, 1h39, France)

CANNES CLASSICS SPECIAL SCREENINGS

Terrore nello spazio (Planet of the Vampires) (1965, 1h28, Italy/Spain) by Mario Bava
Tiempo de morir by Arturo Ripstein (1966, 1h30, Mexico)
*

SECCIÓN CORTOMETRAJES Y CINÉFONDATION
Jurado – Presidido por Naomi Kawase (Directora, Japón)
Formado por: Marie-Josée CROZE (Actriz – Canadá, Francia), Jean-Marie LARRIEU (Director y guionista – Francia), Radu MUNTEAN (Director y guionista – Rumanía) y Santiago LOZA (Director, dramaturgo, escritor – Argentina)
El Jurado de la Cinéfondation y de los cortometrajes, premiará tanto a las mejores películas de la Competición de los cortometrajes como a las de la selección de la Cinéfondation una vez concluidas sus deliberaciones.
*

LA COMPETICIÓN DE LOS CORTOMETRAJES 2016
Este año, el comité de selección ha recibido 5.008 cortometrajes, es decir, 458 más que en 2015. La Competición de los cortometrajes 2016 está compuesta por diez películas de ficción procedentes, en su mayoría, de Europa y América Central y del Sur, además de un representante de Asia y otro de África.
Estas películas competirán por la Palme d'or del cortometraje 2016, que será concedida por Naomi Kawase, presidenta del Jurado, durante la ceremonia de entrega del palmarés del 69º Festival de Cannes, que se celebrará el próximo 22 de mayo.
Lista (Director, TÍTULO, País, Duración)
Lotfi ACHOUR, LA LAINE SUR LE DOS, Túnez, Francia, 15'
Sara DUNLOP, DREAMLANDS, Reino Unido, 14'
Juanjo GIMENEZ, TIMECODE, España, 15'
Raymund GUTIERREZ, IMAGO, Filipinas, 15'
Simón MESA SOTO, MADRE (Mère), Colombia, Suecia, 14'
João Paulo MIRANDA MARIA, A MOÇA QUE DANÇOU COM O DIABO (La jeune fille qui dansait avec le diable), Brasil, 14'
Félix MOATI, APRÈS SUZANNE, Francia, 15'
Catalin ROTARU, Gabi Virginia, SARGA 4:15 P.M. SFARSITUL LUMII, Rumanía, 15'
Farnoosh SAMADI, Ali ASGARI, IL SILENZIO, Italia, 15'
Simon VAHLNE, FIGHT ON A SWEDISH BEACH, Suecia, 14'
*

LA SELECCIÓN DE LA CINÉFONDATION 2016
La selección de la Cinéfondation ha elegido, con motivo de su 19ª edición, 18 películas (14 ficciones y 4 animaciones) entre las 2.300 que han presentado este año escuelas de cine de todo el mundo. Estarán representados quince países procedentes de los tres continentes.
Siete de las películas seleccionadas proceden de escuelas que participan por primera vez. Es también la primera vez que una escuela de Venezuela logra que una de sus películas sea elegida para participar en la selección. Más de la mitad de las películas de la presente edición, 10 de 18, han sido dirigidas por mujeres.
Los tres Prix de la Cinéfondation serán entregados durante una ceremonia que precederá la proyección de las películas premiadas el viernes 20 de mayo en la sala Buñuel.
Lista (Director, TÍTULO, Escuela, País, Duración)
Hamid AHMADI, IN THE HILLS, The London Film School, Reino Unido, 21′
Mounia AKL, SUBMARINE, Columbia University School of the Arts, USA, 21′
Nadja ANDRASEV, A NYALINTÁS NESZE, Moholy-Nagy University of Art and Design, Hungría, 09′
Alexandru BADEA, TOATE FLUVIILE CURG ÎN MARE, UNATC «I. L. Caragiale», Rumanía, 24′
Mélody BOULISSIÈRE, AILLEURS, École nationale supérieure des Arts Décoratifs, Francia, 06′
Anna CAZENAVE CAMBET, GABBER LOVER, La Fémis, Francia, 13′
Jac CLINCH, THE ALAN DIMENSION, NFTS, Reino Unido, 08′
Alexandre GILMET, POUBELLE, INSAS, Bélgica, 19′
Marta HERNAIZ PIDAL, DOBRO, film.factory, Bosnia y Herzegovina, 15′
Michael LABARCA, LA CULPA, PROBABLEMENTE, Universidad de Los Andes, Venezuela, 14′
Ernesto MARTÍNEZ BUCIO, LAS RAZONES DEL MUNDO, Centro de Capacitación Cinematográfica, México, 37′
PARK Young-ju, 1 KILOGRAM, Korea National University of Arts, República de Corea, 29′
Fereshteh PARNIAN, ARAM, Université Lumière Lyon 2, Francia, 17′
Saurav RAI, GUDH, Satyajit Ray Film & TV Institute, India, 28′
Laura SAMANI, LA SANTA CHE DORME, Centro Sperimentale di Cinematografia, Italia, 19′
Remo SCHERRER, BEI WIND UND WETTER, Hochschule Luzern – Design & Kunst, Suiza, 11′
Or SINAI, ANNA, The Sam Spiegel Film & TV School, Israel, 24′
Malena VAIN, BUSINESS, Universidad del Cine, Argentina, 20′
L'Atelier de la Cinéfondation acoge este año su duodécima edición e invitará al Festival de Cannes a 16 directores cuyos proyectos de película han sido considerados especialmente prometedores.
Acompañados de su productor, podrán reunirse con posibles socios, indispensables para finalizar su proyecto y pasar a la fase de realización de su película. L'Atelier abre a sus participantes las puertas a las coproducciones internacionales, lo que permite acelerar el proceso de finalización de la película.
Fundado en 2005 para fomentar el cine de autor y favorecer la aparición de una nueva generación de cineastas en el mundo, L'Atelier ha seguido durante 11 años el desarrollo de 171 proyectos, 126 de los cuales han sido estrenados en la gran pantalla y 18 se encuentran actualmente en preproducción. En esta duodécima edición, se han escogido 16 proyectos procedentes de 14 países, desde el director en sus inicios hasta el cineasta contrastado.
Del 13 al 19 de mayo, se organizarán reuniones con los directores para los profesionales interesados en sus proyectos.
Lista (TÍTULO, Director, País)
Abou Leila, Amin Sidi-Boumediène, Argelia
La Cordillera, Santiago Mitre, Argentina
Tantas Almas, Nicolás Rincón Gille, Colombia
Ni dieux ni maîtres, Eric Cherrière, Francia
Memories and my Mother, Aditya Vikram Sengupta, India
Marlina the murderer in four acts, Mouly Surya, Indonesia
Daoud's winter, Koutaiba Al Janabi, Irak
Death in Bed, David Volach, Israel
Sow The Wind, Danilo Caputo, Italia
Femme fatale, Kyoko Miyake, Japón
The Whole-timers, Bibhusan Basnet y Pooja Gurung, Nepal
Animas, José Ortuño,España
My favorite fabric, Gaya Jiji, Siria
Iguana Tokyo, Kaan Müjdeci, Turquía
The Boarding school, Rezan Yeşilbaş, Turquía
Lista (TÍTULO, Director, País)
ALBÜM, Mehmet Can Mertoglu, Turkey 1ª película
DIAMOND ISLAND, Davy Chou, Cambodia-France 2ª película
RAW, Julia Ducournau, France 1ª película
MIMOSAS, Oliver Laxe, Spain 2ª película
ONE WEEK AND A DAY, Asaph Polonsky, Israel 1ª película
TRAMONTANE, Vatche Boulghourjian, Lebanon 1ª película
A YELLOW BIRD, K. Rajagopal, Singapore 1ª película
ARNIE, Rina B. Tsou, Taiwan/Philippines
ASCENSÃO, Pedro Peralta, Portugal
CAMPO DE VÍBORAS, Cristèle Alves Meira, Portugal/France
DELUSION IS REDEMPTION TO THOSE IN DISTRESS Fellipe Fernandes, Brazil
L'ENFANCE D'UN CHEF Antoine de Bary, France
LIMBO Konstantina Kotzamani, Greece/France
OH WHAT A WONDERFUL FEELING François Jaros, Canada
PRENJAK Wregas Bhanuteja, Indonesia
LE SOLDAT VIERGE Erwan Le Duc, France
SUPERBIA Luca Tóth, Hungary
IN BED WITH VICTORIA, Justine Triet, France Película de inauguración 2ª película
I TEMPI FELICI VERRANNO PRESTO (HAPPY TIMES WILL COME SOON), Alessandro Comodin, Italy 1ª película
APNÉE, Jean-Christophe Meurisse, Turkey 1ª película
SMILE (BONNE FIGURE), Sandrine Kiberlain, France
EN MOI, Laetitia Casta, France
KITTY, Chloë Sevigny, USA
WATER STEPS (LOS PASOS DEL AGUA) César Augusto Acevedo (Colombia)
FROM THE DIARY OF A WEDDING PHOTOGRAPHER (MYOMANO SHEL TZALAM HATONOT) Nadav Lapid (Israel)
FESTIVAL INTERNATIONAL DU FILM DE MORELIA – más info
*

QUINCENA DE REALIZADORES
Lista (TÍTULO, Director)
THE 48TH DIRECTOR'S FORTNIGHT SELECTION
LARGOMETRAJES
SWEET DREAMS, Marco Bellocchio Película inagural
DOG EAT DOG, Paul Schrader Película de clausura
DIVINES, Houda Benyamina 1ª película
ENDLESS POETRY, Alejandro Jodorowsky
FIORE, Claudio Giovanessi
AFTER LOVE (L'ECONOMIE DU COUPLE), Joachim Lafosse
L'EFFET AQUATIQUE, Solveig Anspach
LIKE CRAZY, Paolo Virzi
MEAN DREAMS, Nathan Morlando
MERCENAIRE, Sacha Wolff 1ª película
MY LIFE AS A COURGETTE, Claude Barras 1ª película
NERUDA, Pablo Larrain
PYSCHO RAMAN, Anurag Kashyap
RISK, Laura Poitras
TOUR DE FRANCE, Rachid Djaidani
TWO LOVERS AND A BEAR, Kim Nguyen
LES VIES DE THERESE, Sebastien Lifshitz
WOLF AND SHEEP, Shahrbanoo Sadat 1ª película
CORTOMETRAJES
ABIGAIL, Isabel Penoni and Valentina Homem
CHASSE ROYALE, Lise Akoka and Romane Gueret
DECORADO, Alberto Vazquez
HABAT SHEL HAKALA, Tamar Rudoy
HAPPY END, Jan Saska
HITCHHIKER, Jero Yun
IMPORT, Ena Sendijarevic
KINDIL EL BAHR, Damien Ounouri
LÉTHÉ, Dea Kulumbegashvili
LISTENING TO BEETHOVEN, Garri Bardine
ZVIR, Miroslav Sikavica
Fuente: Festival Cannes | @Festival_Cannes
Información:
Conferencia de Prensa 2016 | Dossier de Prensa 2016 | Selección Oficial | Película de Inauguración | Película de Clausura | Complementos de Selección, Complemento de selección | Sección Cortometrajes y Cinéfondation | Cannes Classics 2016 | L'Atelier |
| Presidente del Jurado | Jurado de 69º Festival de Cannes | Presidenta y Jurado 'Un Certain Regard'  | Presidenta Jurado Cinéfondation y Cortos | Jurado Cinéfondation y Cortos | Presidenta y Jurado Caméra d'Or | Palma de Honor | Cartel Oficial | Maestro de Ceremonias |
The 48th Director's Fortnight Selection | Directors' Fortnight reveals 2016 line-up | 55th La Semaine de la Critique Selection | Critics' Week Announces 2016 Lineup