72 Mostra Internazionale D'Arte Cinematografica di Venezia – Selección Oficial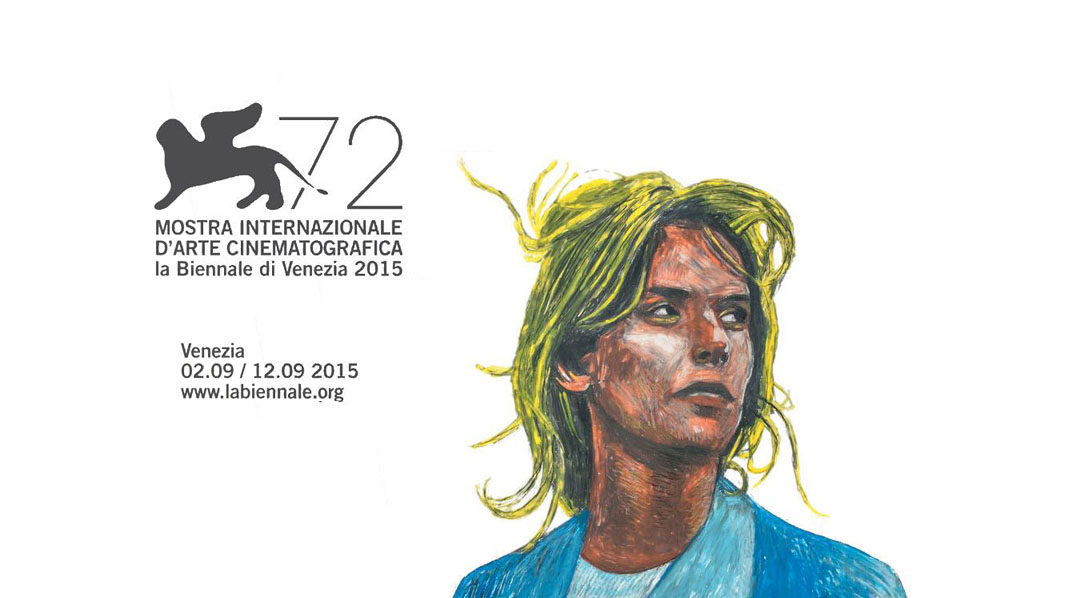 Con todo el problema que he tenido en el blog este ultimo mes, algunas cosas se quedaron en el tintero. Pero como quedan unos cuantos días de festival todavía, aquí os dejo la información del Festival de Cine de Venecia, ya que hasta el fin de semana que viene no sabremos el palmarés.
El Festival Internacional de Cine de Venecia (Mostra Internazionale d'Arte Cinematografica di Venezia) es un festival de cine Italiano que se lleva a cabo cada año en el Palazzo del Cinema de Venecia (donde se presentan las películas en competición). Aunque el festival es anual, está enmarcado dentro de lo que se conoce como la Bienal de Venecia. Se trata de una exposición internacional de las artes, que como su nombre indica, se celebra cada 2 años en la ciudad italiana.
El máximo galardón del Festival es el León de Oro (Leone d'Oro), que el jurado concede a la mejor película a concurso. El jurado también concede el León de Plata (Leone d'Argento) al mejor director y el Gran Premio del Jurado.
En el apartado de interpretación, el jurado otorga la Copa Volpi al mejor actor y a la mejor actriz. Solo en cuatro ediciones (entre 1993 y 1996), se otorgó la Copa Volpi tanto al mejor actor de reparto como a la mejor actriz de reparto (en este último caso, solo se otorgó hasta 1995).
Además se otorga cada año uno o varios Leones de Oro especiales a distintas personalidades del mundo del cine, reconociendo su aportación a la industria.
Este año el festival tendrá lugar del 2 al 12 de Septiembre.
EVEREST (3D) de Baltasar Kormákur abrirá el festival, la noche de inaguración, y lo hará fuera de competición.
El director francés, Bertrand Tavernier, recibirá el León de Oro a todo su carrera. (+info)
Brian de Palma recivirá el Venice International Film Festival's Jaeger-LeCoultre Glory to the Filmmaker 2015 Award. (+info)
El director Mexicano, Arturo Ripstein, será honrrado con un premios especial celebrando sus cincuenta años de carrera. (+info)
*SELECCIÓN OFICIAL*
VENEZIA 72
 – Largometrajes en competición (Internacional), presentados como premieres mundiales.
EMIN ALPER – ABLUKA (FRENZY) Turkey, France, Qatar, 119'
LAURIE ANDERSON – HEART OF A DOG USA, 75'
MARCO BELLOCCHIO – SANGUE DEL MIO SANGUE Italy, France, Switzerland, 107'
SUE BROOKS – LOOKING FOR GRACE Australia, 100'
DRAKE DOREMUS – EQUALS USA, 101'
ATOM EGOYAN – REMEMBER Canada, Germany, 95'
CARY FUKUNAGA – BEASTS OF NO NATION USA, 133'
GIUSEPPE M. GAUDINO – PER AMOR VOSTRO Italy, France, 110'
XAVIER GIANNOLI – MARGUERITE France, Czech Republic, Belgium, 127'
AMOS GITAI – RABIN, THE LAST DAY Israel, France, 153'
LUCA GUADAGNINO – A BIGGER SPLASH Italy, France, 120′
OLIVER HERMANUS – THE ENDLESS RIVER South Africa, France, 108'
TOM HOOPER – THE DANISH GIRL UK, USA, 120'
CHARLIE KAUFMAN, DUKE JOHNSON – ANOMALISA USA, 90' (Animation)
ZHAO LIANG – BEIXI MOSHUO (BEHEMOTH) China, France, 95'(Documentary)
PIERO MESSINA – L'ATTESA Italy, France, 100'
JERZY SKOLIMOWSKI – 11 MINUT (11 MINUTES) Poland, Ireland, 81'
ALEKSANDR SOKUROV – FRANCOFONIA France, Germany, Netherlands, 87'
PABLO TRAPERO – EL CLAN Argentina, Spain, 108'
LORENZO VIGAS – DESDE ALLÁ (FROM AFAR) Venezuela, Mexico, 93'
CHRISTIAN VINCENT – L'HERMINE France, 98'
OUT OF COMPETITION
 Trabajos importantes de directores que han participado previamente en el Fesival.
EVGENY AFINEEVSKY – WINTER ON FIRE Ukraine, 85′ (Documentary)
DANIEL ALFREDSON – GO WITH ME USA, Canada, Sweden, 90′
YANN ARTHUS-BERTRAND – HUMAN France, 188′ (documentary)
NOAH BAUMBACH, JAKE PALTROW – DE PALMA USA, 110′ (Documentary)
AMY BERG – JANIS USA, 115′ (documentary)
CLAUDIO CALIGARI – NON ESSERE CATTIVO Italy, 100′
SCOTT COOPER – BLACK MASS USA, 122′
GIANLUCA E MASSIMILIANO DE SERIO – I RICORDI DEL FIUME Italy, 140′ (documentary)
GUAN HU – LAO PAO ER (MR SIX) China, 135′
BALTASAR KORMÁKUR – EVEREST (3D) [OPENING FILM] United Kingdom, USA, 122′
SERGEI LOZNITSA – SOBYTIE (THE EVENT) Netherlands, Belgium, 74′ (Documentary)
FRANCO MARESCO – GLI UOMINI DI QUESTA CITTÀ IO NON LI CONOSCO. VITA E TEATRO DI FRANCO SCALDATI Italy, 115′ (Documentary)
THOMAS MCCARTHY – SPOTLIGHT USA, 123′
TSAI MING-LIANG – NA RI XIAWU (AFTERNOON) Chinese Taipei, 137′
GIANFRANCO PANNONE – L'ESERCITO PIÙ PICCOLO DEL MONDO Vatican City, Italy, Switzerland, 80′ (Documentary)
ARTURO RIPSTEIN – LA CALLE DE LA AMARGURA Mexico, Spain, 99′
BERTRAND TAVERNIER – LA VIE ET RIEN D'AUTRE (1989) France, 135′
FREDERICK WISEMAN – IN JACKSON HEIGHTS USA, 190' (Documentary)
ORIZZONTI
 – Las nuevas tendencias en el cine mundial
HIWOT ADMASU GETANEH – NEW EYES [SHORT FILMS] France, UK, Germany, 11'
MERZAK ALLOUACHE – MADAME COURAGE Algeria, France, 90'
GIOVANNI ALOI – E.T.E.R.N.I.T. [SHORT FILMS] France, 11'
JOKO ANWAR – A COPY OF MY MIND Indonesia, South Korea, 116'
MARIANA ARRIAGA – EN DEFENSA PROPIA [SHORT FILMS] Mexico, 14'
KARIM BOUKERCHA – VIOLENCE EN RÉUNION [SHORT FILMS] France, 15'
ALBERTO CAVIGLIA – PECORE IN ERBA Italy, 95'
SAMUEL COLLARDEY – TEMPÊTE France, 89'
BRADY CORBET – THE CHILDHOOD OF A LEADER United Kingdom, Hungary, Belgium, France, 113'
RENATO DE MARIA – ITALIAN GANGSTERS Italy, 87'
KEVIN JEROME EVERSON – IT SEEMS TO HANG ON [SHORT FILMS] USA, 20'
VAHID JALILVAND – WEDNESDAY, MAY 9 Iran, 102'
SHEN JIE – HOU (MONKEY) [SHORT FILMS] China, 5' (Animation)
YAELLE KAYAM – MOUNTAIN Israel, Denmark, 83'
TOBIAS LINDHOLM – KRIGEN (A WAR) Denmark, 115'
VETRI MAARAN – VISAARANAI (INTERROGATION) India, 106'
JAKE MAHAFFY – FREE IN DEED USA, New Zealand, 98'
GABRIEL MASCARO – BOI NEON (NEON BULL) Brazil, Uruguay, Netherlands, 101'
DITO MONTIEL – MAN DOWN USA, 92'
HADAR MORAG – LAMA AZAVTANI (WHY HAST THOU FORSAKEN ME) Israel, France, 94'
ALY MURITIBA, MARJA CALAFANGE – TARÂNTULA [SHORT FILMS] Brazil, 20'
SEBASTIÁN MURO – 55 PASTILLAS [SHORT FILMS] Argentina, 13'
ELNURA OSMONALIEVA – SEIDE [SHORT FILMS] Kyrgyzstan, 13'
TSEDEN PEMA – THARLO China, 123'
CRISTINA PICCHI – CHAMP DES POSSIBLES [SHORT FILMS] Canada, 13' (Documentary)
RODRIGO PLÁ – UN MONSTRUO DE MIL CABEZAS (A MONSTER WITH A THOUSAND HEADS) Mexico, 75'
ANITA ROCHA DA SILVEIRA – MATE-ME POR FAVOR Brazil, Argentina, 101'
NICOLAS SAADA – TAJ MAHAL France, Belgium, 89'
IVAN SALATIC – DVORIŠTA (BACKYARDS) [SHORT FILMS] Montenegro, 20'
WICHANON SOMUMJARN – JER GUN MUER RAO JER GUN (THE YOUNG MAN WHO CAME FROM THE CHEE RIVER) [SHORT FILMS] Thailand, 16'
DUBRAVKA TURIC – BELLADONNA [SHORT FILMS] Croatia, 18'
DAVID VICTORI – ZERO [SHORT FILMS – OUT OF COMPETITION] USA, UK, Spain, Mexico, 28'
JULIAN WAYSER – OH GALLOW LAY [SHORT FILMS] USA, 20'
YORGOS ZOIS – INTERRUPTION Greece, France, Croatia, 109'
VENICE CLASSICS
Una selección de películas y documentales clásicos del cine restaurados
– VENISE (1912) France, 10′ (Documentary)
PIETRA BRETTKELLY – A FLICKERING TRUTH [DOCUMENTARIES] New Zealand, Afghanistan, 91′
CHARLES BURNETT – TO SLEEP WITH ANGER (1990) USA, 101′
CLAUDE CHABROL – LE BEAU SERGE (BITTER REUNION, 1958) France, 93′
GURU DUTT – PYAASA (THE THIRSTY ONE, 1957) India, 144′
SERGEJ MICHAJLOVIC EJZENŠTEJN – ALEKSANDR NEVSKIJ (1938) USSR, 108′
PÁL FEJÖS – SONNENSTRAHL (RAY OF SUNSHINE, 1933) Germany, Austria, 87′
FEDERICO FELLINI – AMARCORD (1973) Italy, 123′
HUGO FREGONESE – APENAS UN DELINCUENTE (HARDLY A CRIMINAL, 1949) Argentina, 90′
JEAN GRÉMILLON – PATTES BLANCHES (WHITE PAWS, 1949) France, 92′
YILMAZ GÜNEY – UMUT (HOPE, 1970) Turkey, 97′
ANDREAS HORVATH – HELMUT BERGER, ACTOR [DOCUMENTARIES] Austria, 89′
HSIAO-HSIEN HOU – FENGGUI LAI DE REN (THE BOYS FROM FENG-KUEI, 1983) Chinese Taipei, 99′
WILLIAM K. HOWARD – THE POWER AND THE GLORY (1933) USA, 80′
WILLIAM K. HOWARD – THE TRIAL OF VIVIENNE WARE (1932) USA, 55′
SIMONE ISOLA – ALFREDO BINI, THE UNEXPECTED GUEST [DOCUMENTARIES] Italy, 84′
RINKU KALSY – FOR THE LOVE OF A MAN [DOCUMENTARIES] India, 80′
AKIRA KUROSAWA – AKAHIGE (RED BEARD, 1965) Japan, 185′
ALBERTO LATTUADA – LA LUPA (SHE WOLF, 1953) Italy, 93′
ERNST LUBITSCH – HEAVEN CAN WAIT (1943) USA, 113′
ALAIN MAZARS – JACQUES TOURNEUR LE MÉDIUM (FILMER L'INVISIBLE) [DOCUMENTARIES] France, 60′
JEAN-PIERRE MELVILLE – LÉON MORIN, PRÊTRE (LEON MORIN, PRIEST, 1961) France, 130′
MARIO MONICELLI – VOGLIAMO I COLONNELLI (WE WANT THE COLONELS, 1973) Italy, 96′
YVES MONTMAYEUR – THE 1000 EYES OF DR MADDIN [DOCUMENTARIES] France, 65′
STEVEN OKAZAKI – MIFUNE: THE LAST SAMURAI [DOCUMENTARIES] Japan, 70′
PIER PAOLO PASOLINI – SALÒ O LE 120 GIORNATE DI SODOMA (SALÒ, OR THE 120 DAYS OF SODOM, 1975) Italy, 116′
MICHAEL POWELL, EMERIC PRESSBURGER – A MATTER OF LIFE AND DEATH (1946) United Kingdom, 104′
DINO RISI – I MOSTRI (1963) Italy, 118′
VALERIO RUIZ – DIETRO GLI OCCHIALI BIANCHI [DOCUMENTARIES] Italy, 104′
ORSON WELLES – THE MERCHANT OF VENICE (1969) USA, 35′
ORSON WELLES – OTELLO (OTHELLO, 1951) Italy, France, USA, 97′
BIENNALE COLLEGE – CINEMA
 Taller de formación de educación superior para el desarrollo y producción de largometrajes con un micro-presupuesto.
KUBA CZEKAJ – BABY BUMP Poland, 89'
KOHKI HASEI – BLANKA Japan, Italy, 75'
ANNA ROSE HOLMER – THE FITS USA, 71'
FINAL CUT IN VENICE
 Taller para apoyar la post-producción de películas de África y Oriente Medio
HAKAR ABDULQADIR – HAVIBON (SEPARATION) Iraq, 70'
ATIA AL-DARADJI – TARIK AL-JENAH (PATH OF PARADISE) Iraq, 74'
KAOUTHER BEN HANIA – ZAINEB TAKRAHOU ETHELJ (ZAINEB HATES THE SNOW) Tunisia, 84'
SHERIF ELBENDARY – ALI MEA'ZA WE IBRAHIM (ALI, THE GOAT, AND IBRAHIM) Egypt, 44'
TALA HADID – TIGMI NIGREN (HOUSE IN THE FIELDS) Morocco, 52'
ZIAD KALTHOUM – DEEK BEIRUT (ROOSTER OF BEIRUT) Syria, 44'
 *SECCIONES AUTÓNOMAS*
MIN BAHADUR BHAM – KALO POTHI (THE BLACK HEN) Nepal, France, Germany, 86′
MARTIN BUTLER, BENTLEY DEAN – TANNA Australia, Vanuatu, 104′
ESTHER MAY CAMPBELL – LIGHT YEARS United Kingdom, 90′
ANTONIO CAPUANO – BAGNOLI JUNGLE [CLOSING FILM – OUT OF COMPETITION
SPECIAL EVENT] Italy, 100′
PETER MULLAN – ORPHANS [OPENING FILM – OUT OF COMPETITION SPECIAL EVENT] United Kingdom, 95′
JOÃO SALAVIZA – MONTANHA (MOUNTAIN) Portugal, France, 88′
LIU SHUMIN – JIA (THE FAMILY) [PRE-OPENING FILM – OUT OF COMPETITION SPECIAL EVENT] China, Australia, 280′
SENEM TÜZEN – ANA YURDU (MOTHERLAND) Turkey, Greece, 98′
ADRIANO VALERIO – BANAT (THE JOURNEY) Italy, Romania, Bulgaria, Macedonia, 82′
GREEN ZENG – THE RETURN Singapore, 80′

VENICE DAYS
 Sección independiente orgabizada por la Italian Association of Filmmakers ANAC and 100 Autori –
Venice Days
AA.VV. – MILANO 2015 [SPECIAL EVENTS] Italy, 103′
DAVIDE BARLETTI, JACOPO QUADRI – IL PAESE DOVE GLI ALBERI VOLANO – EUGENIO
BARBA E I GIORNI DELL'ODIN [SPECIAL PROJECTS] Italy, 90′
LORENZO BERGHELLA – BANGLAND [SPECIAL PROJECTS] Italy, 60′ (Animation)
MATÍAS BIZE – LA MEMORIA DEL AGUA Chile, 88′
LEYLA BOUZID – A PEINE J'OUVRE LES YEUX France, Tunisia, Belgium, United Arab Emirates, 102′
JONAS CARPIGNANO – MEDITERRANEA [LUX PRIZE] Italy, United States, Germany, France, Qatar, 107′
ASCANIO CELESTINI – VIVA LA SPOSA Italy, France, Belgium, 87′
CARLOTTA CERQUETTI – HARRY'S BAR [SPECIAL EVENTS] Italy, 55′
PIOTR CHRZAN – KLEZMER Poland, 95′
DANI DE LA TORRE – EL DESCONOCIDO [OPENING FILM] Spain, 96′
JULIE DELPY – LOLO France, 99′
DENIZ GAMZE ERGÜVEN – MUSTANG [LUX PRIZE] France, Germany, Turkey, Qatar, 97′
GRANT GEE – INNOCENCE OF MEMORIES – ORHAN PAMUK'S MUSEUM AND ISTANBUL [SPECIAL EVENTS] UK, Ireland, Italy, 97′
KRISTINA GROZEVA, PETAR VALCHANOV – UROK [LUX PRIZE] Bulgaria, Greece, 105′
CARLO LAVAGNA – ARIANNA Italy, 84′
VINCENZO MARRA – LA PRIMA LUCE Italy, Chile, 108′
RUCHIKA OBEROI – ISLAND CITY India, 110′
SONG PENGFEI – UNDERGROUND FRAGRANCE France, China, 75′
ALICE ROHRWACHER – #9 DE DJESS [MIU MIU WOMEN'S TALES] Italy, 15′
ALESSANDRO ROSSELLINI – VIVA INGRID! [SPECIAL EVENTS] Italy, 19′
MICHAEL ROWE – EARLY WINTER Australia, Canada, 96′
CELIA ROWLSON HALL – MA [SPECIAL EVENTS] USA, 85′
CARLOS SAURA – ZONDA, FOLCLORE ARGENTINO – ARGENTINA [SPECIAL EVENTS] Argentina, Spain, France, 87′
ANDREA SEGRE – I SOGNI DEL LAGO SALATO [SPECIAL PROJECTS] Italy, 72′
SIMON STONE – THE DAUGHTER [CLOSING FILM] Australia, 94′
AGNÈS VARDA – #10 LES 3 BOUTONS [MIU MIU WOMEN'S TALES]
Estadísticas del 72nd Venice International Film Festival
55 nuevos largometrajes en la Selección OficialDivididos en:
· 21 en Venezia 72 (Competicion)
· 16 Fuera de Competicion (de los que 9 son documentales)
· 18 en Orizzonti16 nuevos cortometrajesDivididos en:
· 1 Fuera de Competicion
· 15 en OrizzontiVenice Classics
20 largometrajes, 18 son películas restauradas
1 corto restaurado
8 documental sobre cine