2018 Writers Guild Awards (70th Annual) – Nominaciones TV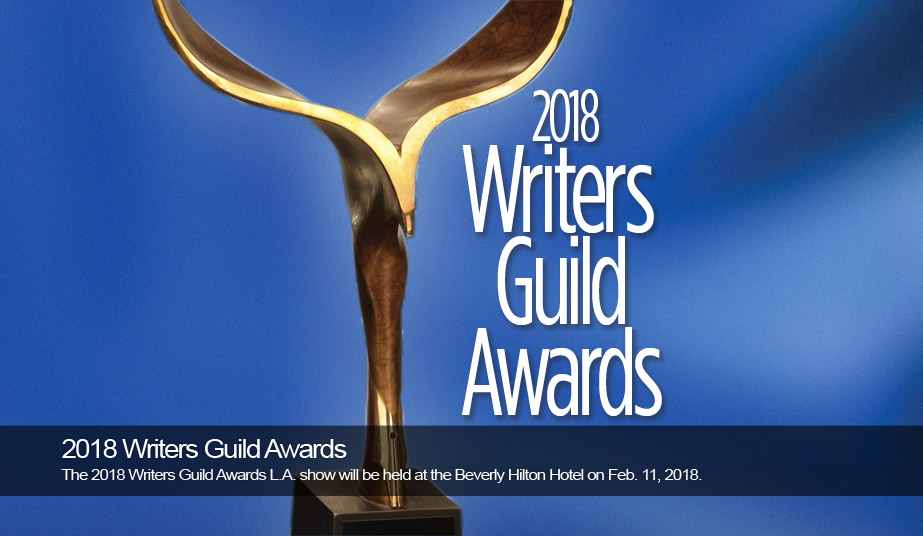 Los Premios del Gremio de Guionistas serán el 11 de Febrero de 2018 con una ceremonia en Los Angeles. El próximo 4 de Enero se anunciarán las categorías de Cine y Documental. Y el 11 de Enero las de Videojuegos.
El 7 de diciembre se anunciaron las nominaciones en las categorías de TV, New Media, Radio, Noticias, Promotional Writing y Animación Gráfica, y estos son los nominados:
TELEVISION
SERIE DRAMA
The Americans
Better Call Saul
Game of Thrones
The Handmaid's Tale
Stranger Things
SERIE COMEDIA
Curb Your Enthusiasm
GLOW
Master of None
Silicon Valley
Veep
NUEVA SERIE
American Vandal
The Deuce
GLOW
The Handmaid's Tale
Ozark
EPISODIO – DRAMA
"The Book of Nora" (The Leftovers)
"Chicanery" (Better Call Saul)
"The Heart Attack is the Best Way" (Good Behavior)
"Homecoming" (The OA)
"Slip" (Better Call Saul)
"The Soviet Division" (The Americans)
EPISODIO – COMEDIA
"The Burglary" (Grace and Frankie)
"Intervention" (The Carmichael Show)
"Judge" (Veep)
"Rosario's Quinceanera" (Will & Grace)
"The Verdict" (Trial & Error)
FORMATO LARGO – ORIGINAL
American Horror Story: Cult
Feud: Bette and Joan
Flint
Godless
Manhunt: Unabomber
FORMATO LARGO – ADAPTADO
Big Little Lies
Fargo
The Immortal Life of Henrietta Lacks
The Wizard of Lies
FORMATO CORTO PARA NUEVOS MEDIOS – ORIGINAL
Sin Nominaciones
FORMATO CORTO PARA NUEVOS MEDIOS – ADAPTADO
"John Hancock" (Marvel's Agents of S.H.I.E.L.D.: Slingshot)
"Chapter 2" (The Walking Dead: Red Machete)
"Justicia" (Marvel's Agents of S.H.I.E.L.D.: Slingshot)
"Starboy" (Zac & Mia)
ANIMACIÓN
"Brunchsquatch" (Bob's Burgers)
"A Father's Watch" (The Simpsons)
"Ruthie" (BoJack Horseman)
"The Serfsons" (The Simpsons)
"Time's Arrow" (BoJack Horseman)
COMEDY / VARIETY TALK SERIES
Conan
Full Frontal with Samantha Bee
Jimmy Kimmel Live
Last Week Tonight with John Oliver
Late Night with Seth Meyers
Real Time with Bill Maher
The Daily Show with Trevor Noah
The Jim Jefferies Show
COMEDY / VARIETY SKETCH SERIES
Nathan For You
Portlandia
Saturday Night Live
The President Show
Weekend Update Summer Edition
COMEDY / VARIETY SPECIALS
39th Annual Kennedy Center Honors
89th Annual Academy Awards
AFI Life Achievement Award: A Tribute to Diane Keaton
Michael Bolton's Big, Sexy, Valentine's Day Special
Nathan For You: A Celebration
QUIZ AND AUDIENCE PARTICIPATION
Hollywood Game Night
Jeopardy!
DAYTIME DRAMA
General Hospital
Days of Our Lives
GUIÓN INFANTIL – EPISODIC & SPECIALS
"American Girl – Ivy & Julie" (American Girl)
"American Girl – Knowledge is Power" (American Girl)
"Just Add 1965" (Just Add Magic)
"Meet Julia" (Sesame Street)
"The Magical Wand Chase: A Sesame Street Special"
CHILDREN'S SCRIPT – LONG FORM
Sin Nominaciones
GUIÓN DOCUMENTAL – CURRENT EVENTS
"Confronting ISIS" (Frontline)
"Poverty, Politics and Profit" (Frontline)
"Unseen Enemy,"
GUIÓN DOCUMENTAL – OTHER THAN CURRENT EVENTS
"Divided States of America" Part One (Frontline)
"Rachel Carson" (American Experience)
"The Great War" Part II (American Experience)
"The Great War" Part III (American Experience)
"The Vietnam War," Episode Six: "Things Fall Apart,"
GUIÓN NOTICIAS – REGULARLY SCHEDULED, BULLETIN, OR BREAKING REPORT
"Obama Wiretap Allegations" (World News Tonight with David Muir)
"September 29, 2017" (World News Now)
"White Helmets" (60 Minutes)
GUIÓN NOTICIAS – ANALYSIS, FEATURE, OR COMMENTARY
"Chief of Chobani" (60 Minutes)
"Fighting Famine" (60 Minutes)
NOTICIAS DIGITALES
"At the Capitol With Those for Whom Last Night Mattered the Most,"
"Becoming Ugly,"
"The Super Predators,"
"Why Did Politicon Make Me Want To Die?,"
RADIO
DOCUMENTAL
"2016 Year in Review,"
"Castro, Cuba & Communism,"
"CBS Radio 90th Anniversary,"
"Remembering Princess Diana 20 Years Later,"
NOTICIAS – REGULARLY SCHEDULED OR BREAKING REPORT
"Hugh Hefner: A Social Revolutionary in Silk Pajamas,"
"World News This Week November 18, 2016,"
"World News This Week: June 9, 2017,"
NOTICIAS – ANALYSIS, FEATURE OR COMMENTARY
"Chuck Berry,"
"Dishin' Digital on WCBS-AM,"
"Holiday Stories,"
"One Nation, Overdosed: An Investigative Report,"
PROMOTIONAL WRITING AND GRAPHIC ANIMATION NOMINEES
ON-AIR PROMOTION (RADIO, TELEVISION OR NEW MEDIA)
"CBS Comedy,"
"The Good Fight,"
TELEVISION GRAPHIC ART AND ANIMATION
Sin Nominaciones
Webs: Nominaciones